Student Projects Get A 3rd Dimension
By Ani Tutunjyan, Executive Editor & Print Editor-in-Chief
Jan 16, 2019
Forget printing homework in the library.
Van Nuys High School's metal shop recently received a new batch of 3D printers, adding a new dimension to 2D projects.
Compared to the school's previous printers, these new additions are advanced, functioning quicker and more efficiently.
"The initial setup is different. They provide more structure support, they're more advanced," says Eric Martinez, a student in Mr. Jose Castro's metal shop.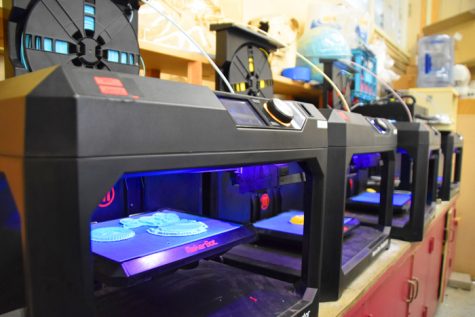 "You can manipulate the actual material a lot better," explained Mr. Castro. "On the older models, the nozzles that would print would come off. Another issue was that the projects themselves would come off the plate because there was not enough grip or support.
Although the 3D printers are mainly used by the metal shop and Skills USA teams, who use them to build car parts, they are accessible to any student who has a background on TInkercad and is interested in learning how to use them.
"The 3D printers will give anyone who knows how to use them a skill they may not have had before, like knowing how to create a part for solidworks, then converting it into a file that the 3D printer can make an actual print of," Martinez said.
Metal shop students are currently learning the 3D printer software and system mechanisms.
"In the future we will mainly be using them for projects. On Tinkercad, from 2D they jump into 3D so we want to learn how to generate those 3D models and kind of make them alive," added Mr. Castro.
The metal shop designs and builds a multitude of creations including everyday metal items such as a table or doorbell and other projects in which the 3D Printer will be very useful.