The Mirror Furthers Award Winning Streak
Van Nuys High School's The Mirror places for NSPA Pacemaker Awards.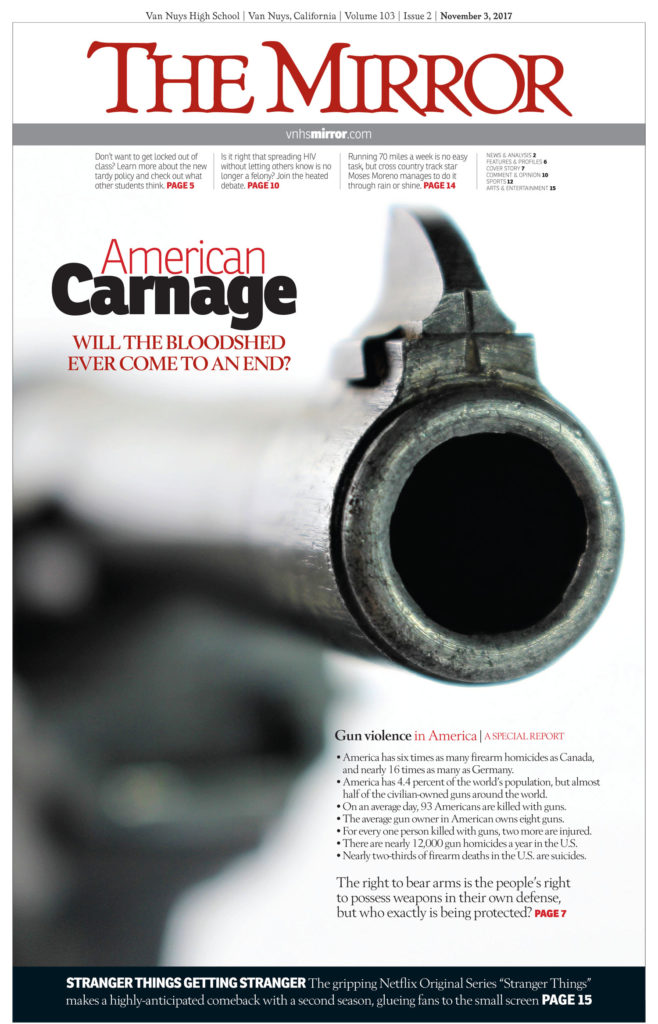 By Ani Tutunjyan, Executive Editor & Print Editor-in-Chief
Nov 14, 2018
Van Nuys High School's newspaper, The Mirror, continues on its award-winning streak.
The paper was a finalist for a multitude of National Scholastic Press Association (NSPA) Pacemaker awards.
The results were released Nov. 4 and VNHS placed for a number of awards.
VNHS received an honorable mention for newsmagazine cover for their covers "Black Like Me" and "American Carnage" by Shimla Rahman, last year's Layout Editor.
The Mirror received 2nd place for Newsmagazine Page/Spread for the layout "Black Like Me" also by Shimla Rahman.
The paper also received 5th place for Informational Graphics for "Net Neutrality."
Along with newspaper awards, NSPA honors individuals in journalism.
Theresa Nguyen, last year's Photo Editor, received 5th place for Photojournalist of the Year.
Tommy Chan, last year's News Editor, and writer Devorah Porter received an Honorable Mention for Social Justice Reporting for the package "Black Like Me."
The final Honorable Mention received was for "Don't Judge Me by My Hair" by Devorah Porter for Opinion Story of the Year.
"
"I am very proud of The Mirror staff and it is amazing that we were nominated for so many awards, and that we actually were honored nationally by the main student press association. We were in competition with thousands of other schools across the country, and we came out on top."
— Ronald Goins