The Mirror Announced as Pacemaker Finalist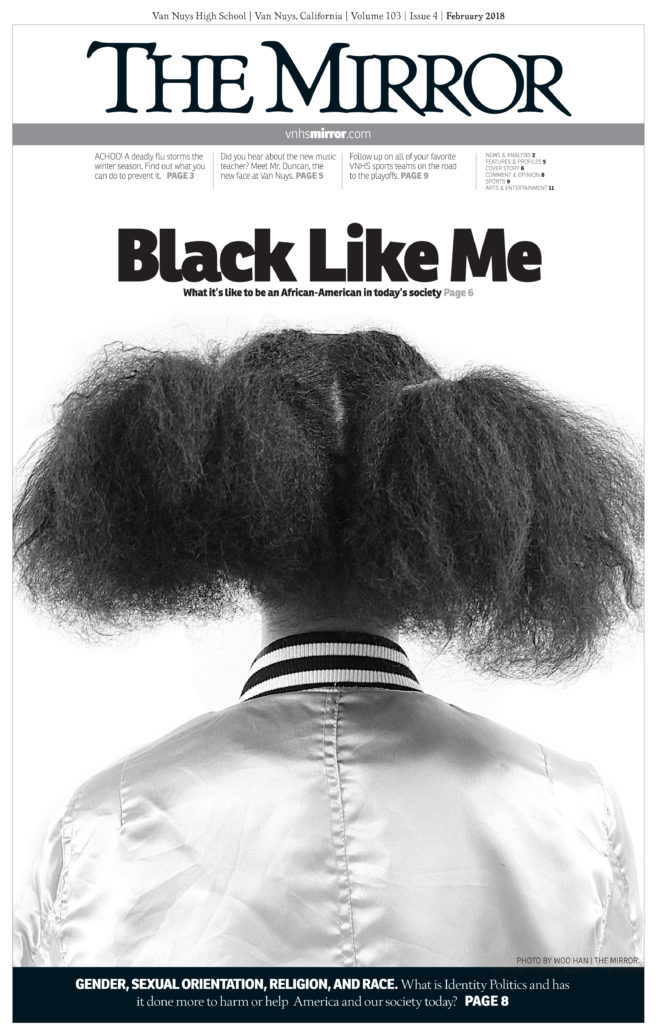 Hang on for a minute...we're trying to find some more stories you might like.
Van Nuys High School's newspaper, The Mirror, has been announced as a finalist for the National Scholastic Press Association's (NSPA) annual Pacemaker awards.
The Pacemaker is one scholastic journalism's most distinguished awards, recognizing excellence in high school newspapers, magazines, yearbooks, websites and broadcasting throughout the country.
In Spring 2018, the news website vnhsmirror.com was named also a Pacemaker finalist.
The VNHS journalism program was also recognized for seven individual awards.
Shimla Rahman, the 2017-2018 layout editor, was selected as a finalist for Newsmagazine Cover Design and Newsmagazine Page/Spread Design.
The cover story "What It Means to be Black" was selected as a finalist for Social Justice Reporting by writers Tommy Chan and Devorah Porter. Porter received a second nomination for Opinion Article of the Year for her essay "I Am Not Defined by My Hair or By You."
The Mirror also garnered recognition for six categories in the Individual Awards.
Rahman received recognition for last year's second issue, "American Carnage", in the newsmagazine cover design category.
Photo editor for 2017-2018, Theresa Nguyen, is a photojournalist of the year finalist.
Additionally, The Mirror is also up for the Informational Graphic award for the Net Neutrality story in last year's December issue.
The winners will be announced Nov. 4 at the JEA/NSPA National High School Journalism Convention in Chicago.
About the Writer
Mhar Tenorio, Staff Writer
Mhar Tenorio is a News staff writer for The Mirror. He joined journalism during his freshman year and wrote feature stories. Returning to the program in this his junior year, he is contributing to Journalism by writing articles for the News Department. Besides writing, Mhar enjoys drawing and graphic design. His future plans include pursuing a degree and a career in the field of art.