Swinging for the Par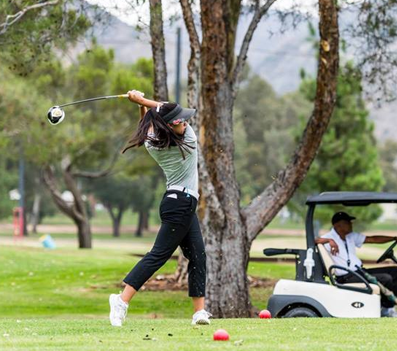 She never expected to pick up a golf club.
She always thought that she would be a basketball player instead.
But Megan Dulkanchainun had to stop dribbling due to a genetic leg structure defect that caused painful pressure on her joints.
It was in middle school that she began playing golf. The sport captivated her, and it was less stressful on her legs.
"Golf is also the only sport that you can play as you get older and older," Dulkanchainun said. "You don't need to rely on others to have a good time playing."
Now, in her third year with the Girls Varsity Golf program, she is the team co-captain, alongside Kristen Vitolo. Considering the stress that school brings, Golf is also a stress reliever for Dulkanchainun that allows her to calm her mind and body as she zones in on her swing.
Aside from its calming effect, golf allows her to compete with her friends and push herself to the limit. Whether it is driving, hitting, chipping or putting, each of the game's aspects challenge Dulkanchainun's confidence. Because the game of golf is interconnected, a single weakness in one aspect can ultimately affect the score.
"Everyone needs to be good at everything," Dulkanchainun said. "Golf is an individual sport where you can only blame yourself and no one else."
With her season currently underway, she wants to redeem herself after falling just one stroke behind the cut for last year's regionals. Now aware that every stroke counts, she plans on limiting her errors with a fresh new mindset and stronger determination.
"A missed putt or a missed hit can be the difference from getting cut or advancing," Dulkanchainun said.
Her greatest accomplishment was outplaying her sister and former team captain, Madison, in her sophomore year. "It was my biggest accomplishment," Dulkanchainun said. "I looked up to my sister even though she always taunted me, and to finally get the better of her made me realize I can strive for greater heights."
With full confidence and an unmatched work ethic, she now aims to improve from her previous year and make a push to regionals this season.