Ms. Partida: Teacher, Dancer, Triathlete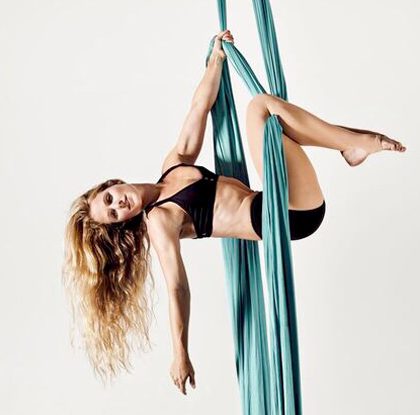 The grind never stops for Ms. Reesa Partida.
Starting out in gymnastics as a child, dance teacher Ms. Partida was drawn towards dance in high school and college as she performed in musical theater. Graduating from California State University, Long Beach, she earned her degree in theater arts and exercise science.
"It is a beautiful way of expressing," she said. "It's very physical and it makes you work really hard. There's something unique about dance in the way that you can tell stories with your body that you can't do just by speaking."
However, Ms. Partida not only dances, but she also partakes in triathlons, which include running, swimming and cycling.
Inspired by her mother, she competed in her first triathlon when she was only nine.
"I was on the swim and track team when I was a little kid and I wanted to try it," she said. "I'm not a good cyclist but it's fun."
Ms. Partida keeps a busy schedule, but somehow manages to put in many hours in preparing for an upcoming race. Before arriving at school, she exercises at 4 a.m. everyday. She also embarks on long bike rides and runs after school and over the weekends. 
But as she executes tough and tiring challenges, Ms. Partida faces rheumatoid arthritis, an autoimmune disease in which the body's immune system attacks the joints.
"It's managed so I'm fully functional," she said. "I get tired and my feet hurt sometimes, but I ignore it and keep going."
Generally ranked among her age group, Ms. Partida placed Third Woman Overall in the Nautica Malibu Triathlon. Inspired by Gwen Jorgensen, an olympic gold medalist in triathlon, she aims to break her olympic triathlon distance time of two hours and 32 minutes.
Ms. Partida will participate in the Half Ironman triathlon at the end of October.
But it doesn't end there. While she trains for the triathlon, Partida also engages in trail running.
Ms. Partida pursued this activity in 2007 after she graduated from college. She initially ran the Bulldog 25k to see the set of her favorite comedy television show, "M*A*S*H." Later, she grew fond of trail running and loved all the different courses. She also represents RADrabbit, a team of marathon runners of every skill.
Her greatest experience in trail running was running with her mother in a 100-mile race. Ms. Partida ran the last 50 miles with her to provide motivation and support. By the time they reached the finish line, her mother finished under 24 hours.
"My mom is a hardcore trail runner, and she would do 100k trail races while I did 50k trail races," she said.
Partida and her mother often run together in marathons, including Bulldog and Bishop High Sierra Ultra.
But despite her commitment to her outside activities, Ms. Partida still continues to express her passion for dance. 
For the past three-and-a-half years, she has taken aerial classes at Womack and Bowman-The Loft in Glendale. As she conditions and trains in strength and flexibility, Ms. Partida learns new acrobatic techniques using aerial silk and rope while suspended in the air.
She also takes great inspiration from Rachel Bowman, the owner of Womack and Bowman-The Loft, and Circus LA acrobats.
"I watch her and she's amazing," she said. "I want to be like her, including a whole lot of people in Circus LA."
As a dance teacher and a well-rounded athlete, Ms. Partida advises rising athletes to start small and to never give up.
"Start small, but don't stop," said Ms. Partida. "Small goals are the way to go. If you're interested in anything, come talk to me."