Shining, Shimmering and Splendid
Disney debuts the teaser trailer for the live-action adaptation of "Aladdin"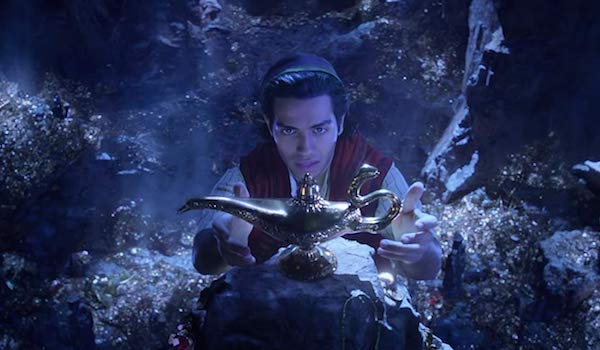 Disney has brought the "whole new world" to life.
With the success of the "The Jungle Book" and "Beauty and the Beast" remakes, Walt Disney Pictures releases the teaser trailer for the live-action adaptation of "Aladdin," an upcoming fantasy/adventure musical that will arrive in theaters on May 24, 2019.
Based on the 1992 animation classic of the same name, the story follows young street rat Aladdin, who embarks on a journey into the Cave of Wonders, a forbidden cave filled with extravagant shiny treasures.
When he gets his hands on a magic lamp that houses a genie, Aladdin is granted three wishes, which he then uses to win over the heart of Princess Jasmine, the Sultan's daughter. However, Jafar, the Grand Vizier of the Sultan, plots to marry Jasmine in order to become Sultan.
The teaser opens with Iago, Jafar's red and blue parrot, flying over the fictional Arabian city of Agrabah and the Cave of Wonders. The instrumental versions of "Arabian Nights" and "Friend Like Me" are also played in the background. The footage includes the silhouette of Jafar outside the cave and concludes with a first look of Aladdin as he reaches for the magic lamp.
The original songs by Alan Menken, Howard Ashman and Tim Rice from the 1992 film, including "One Jump Ahead," "Friend Like Me," "Prince Ali" and "A Whole New World," will be featured in the 2019 remake. Menken will also produce new songs with Benj Pasek and Justin Paul, who are known for songwriting "La La Land" and "The Greatest Showman."
Disney has plans for more live-action remakes, including "Dumbo," "The Lion King" and "Mulan."
Directed by Guy Ritchie, who is known for his works on "Sherlock Holmes" and "King Arthur: Legend of the Sword," "Aladdin" stars Mena Massoud as Aladdin, Naomi Scott as Princess Jasmine, Will Smith as Genie, Marwan Kenzari as Jafar, Billy Magnussen as Prince Anders and Navid Negahban as Sultan.