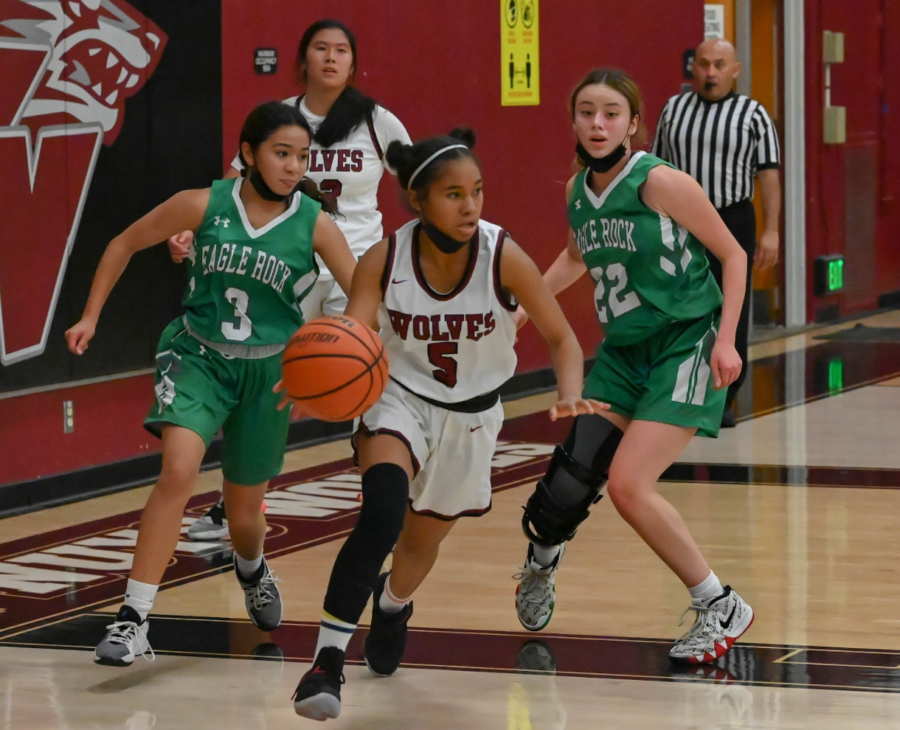 ANGELA PROCA | THE MIRROR
The girls basketball team is now 3-3 for the pre-season. Their first league match will be held on Jan. 12,2022 after the winter break against Reseda. 
The team looks to have a lot of potential for success, but have fallen short in recent games. 
They faced off against Eagle Rock High School, a team with a 8-2 record,on Dec.4 The Wolves lost the match 49-32 but the final score tells a different story than from what happened during the game. 
The Wolves trailed throughout the first quarter but had a huge run in the beginning of the second quarter to nearly tie up the game 17- 16. Eagle Rock responded by going on their own run and extending their lead to 24 -18. The second quarter ends with Eagle Rock leading 26 – 22, making that only a four point game. 
In the beginning of the third, Wolfpack took back the lead 27 – 26 but then completely fell apart. 
The two teams actually kept it close through three quarters before the Eagles went on a 14-3 run in the fourth quarter and dismantled the Wolves. 
The Wolves kept it close in their next matchup but fell short again, this time a close loss. On Dec. 6, the Franklin Panthers beat the Wolves 34-30. The Panthers would then lose their first official league game to the Eagles 66-13 on Dec. 14. 
Van Nuys and VAAS girls basketball teams faced off on Friday, Dec. 11. The Wolves dominated the  game and won 54 – 15.
Throughout the entire game Van Nuys kept up the throttle on offense and made the baskets that the opposing defense kept turning over. Everything just clicked for the offense. The Wolves kept making the contested shots and went 50% from the free throw line.
On the other side of the court, the defense shut down the Vipers. The players from VAAS were unable to score a single point during the third quarter. 
If the girls can turn this win into momentum, there's a good chance that they can make a deep run in the playoffs. The Wolves will have to win more games and play efficiently to have a better record in the official season. Sylmar and Panorama look to be potential threats in future head-to-heads. 
Their next game against Vaughn will be during the winter break on Dec. 22. Vaughn lost to Sylmar 52-37 on Dec. 11, so a win against them would provide a potential estimate for how the Wolves might perform against the Sylmar Spartans.