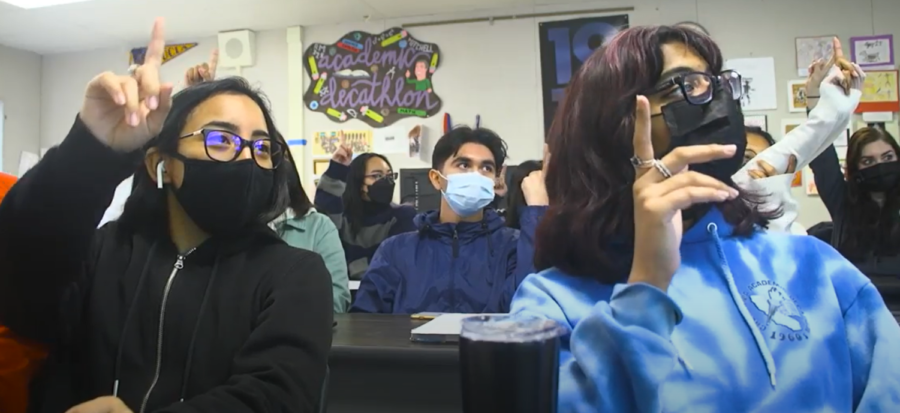 ANDREA PARADA | THE MIRROR
The Academic Decathlon team virtually participated in the Academic Decathlon LAUSD Scrimmage on Nov. 12 and finished in second place.
This competition consisted of seven hours of testing on a variety of diverse subjects such as economics, social studies, art, literature, music, math and science.
Students Mathias Kuchimpos, Michelle Murillo, Vivienne Caravajal, Thomas Kim, Andranik Aboyan, Ashley Andrade, Erick Casco and Amsi Ventura prepared diligently for the competition with their coach Mr. Jonathan Mitchell in the months leading up to the event.
"I am so impressed by this crew, to get second place in LAUSD is fantastic! And in such hard circumstances, it says a lot about their character and abilities," Mr. Mitchell said. 
With this year's events once again occurring online, Mr. Mitchell reports that this has resulted in a continued decrease in people's morale.
The team will go on to compete in the regional competition which requires an essay the team members must complete on Jan. 14, a speech and interview the students must partake in on Jan. 29 and objective tests they must participate in on Feb. 7. High scores in these events will win them a place in the State Final Competition. 

The team has managed to advance to the state competition for the past two years, even winning first place last year. A few key players from that squad, which include Captain Gwendolyn Singer and Viviene Carvajal, have remained on the team to help lead them to another win. Their experience also enables them to act as mentors for new members. 
Students interested in joining the Academic Decathlon team are encouraged to email Mr. Mitchell at [email protected].