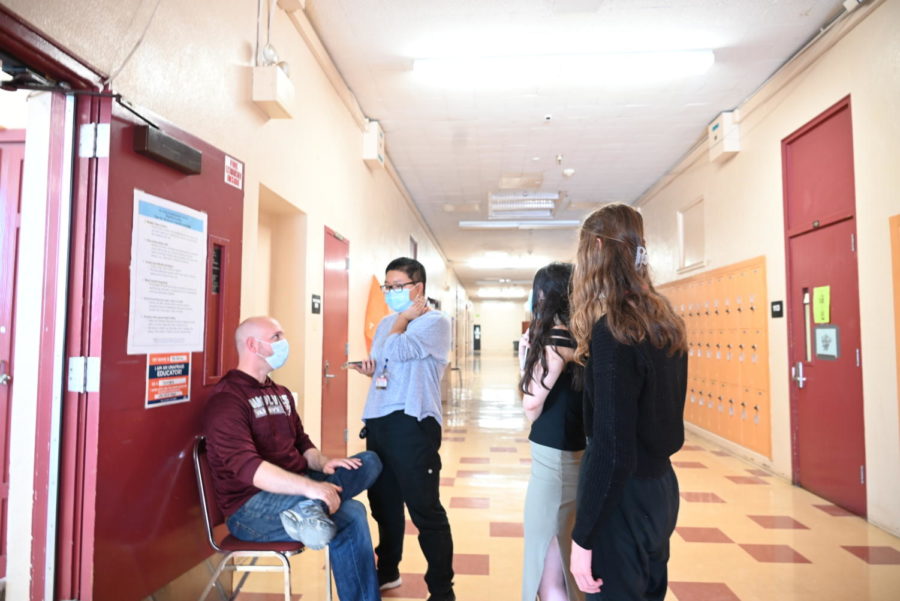 ISABELLA THOMAS | THE MIRROR
The Associated Student Body (ASB) advisor Mr. Jacob Ferrin held a meeting in room 308 during lunch on Monday to give students important updates regarding the sudden Homecoming postponement announced on Friday, Oct. 1. Mr. Ferrin also gave students the opportunity to ask questions or voice their concerns during the meeting. 
"Homecoming will still happen eventually," Ferrin said. "The sooner we have a date, the sooner we'll be making announcements."
The week prior to the Homecoming event, covid-19 cases had spiked. Due to having covid-19 testing set on Thursday instead of Wednesday, the administration was unable to acquire data earlier about students who had tested positive. This led to the very late announcement on Friday regarding the postponement. After hearing there was a spike in cases that week, the Homecoming event was shut down by the Los Angeles County Department of Health. 
Mr. Ferrin predicts that if the Homecoming event doesn't take place after the month of October — when the vaccine mandate goes into place — that the dance will become an extracurricular event that only vaccinated students can attend.
Students are encouraged to hold onto their tickets rather than getting a refund. 
"Until you're absolutely certain that you can't go, we are encouraging you to hold onto your ticket," Mr. Ferrin said. "We don't want you to repurchase your ticket, because we will accept it at the next dance."
Once the school receives a set date for the dance, there will be announcements about it as soon as possible. However, if covid-19 cases do not decrease, there's a possibility that there will be no dance this semester. 
"If we have to do it next semester, we'll do it next semester," Ferrin said. "We'll have Homecoming one way or another."