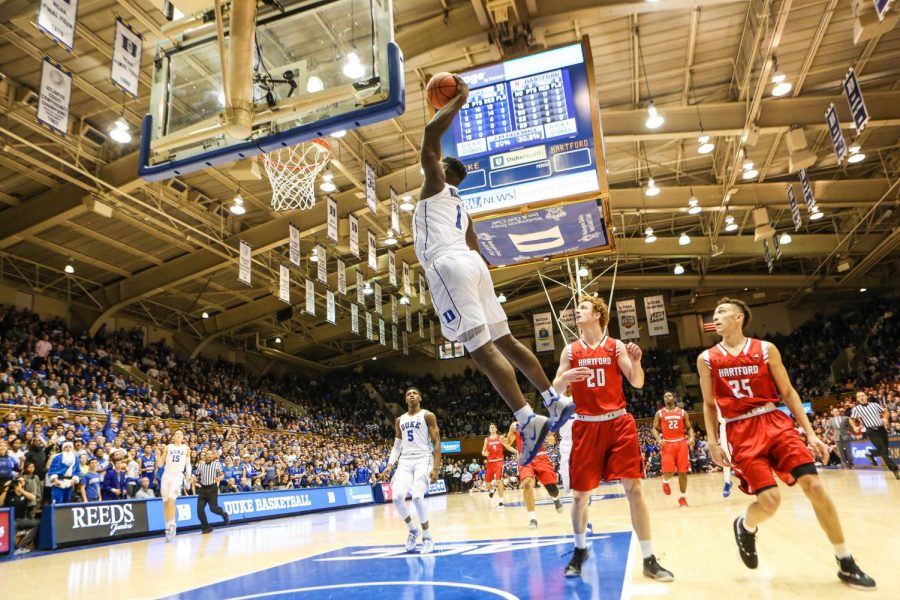 Keenan Hairston
One of the most talked about NBA prospects in history is big to say the least. Duke freshman Zion Williamson steps out onto the court with his 6'7″ 285 pound frame and absolutely destroys his competition.
Williamson has been getting a lot of praise as he has already been compared to NBA greats such as Charles Barkley, Larry Johnson and even Lebron James. Williamson's game speaks for itself as in high school he led Spartanburg Day School to three straight championships while averaging 36 points and 11 rebounds his senior season. Many questioned the level of competition Williamson was facing and wondered if he could play well at a high level.
On January 20, 2018, Williamson, the #2 prospect in the 2018 class, committed to one of the best college basketball schools in the world, Duke.  There he would team up with RJ Barrett, #1 prospect, and Cam Reddish, #3 prospect.
Williamson thus far has proved doubters wrong and has killed his competition this year. He is currently averaging 22 points and 9 rebounds for the Blue Devils and has led them to an impressive record of 25-4.
Many have Williamson being the #1 pick in this years NBA draft. The combination of his size, athleticism and basketball talent have many NBA teams in awe and even tanking for his services. Williamson appears to be a once in a lifetime type of player and will contribute to whoever is able to snag him in June.