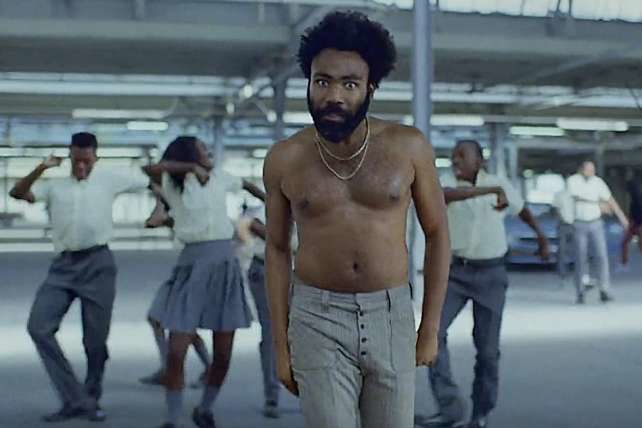 This is the America we live in today.
After having hosted and performed on "Saturday Night Live," Donald Glover, who is also known as his musical stage name, Childish Gambino, debuted his dark new music video on May 5.
Directed by Hiro Murai, who is known for directing Glover's "Atlanta," Gambino's "This is America" music video delivers plenty of powerful messages on political issues, including gun violence, police brutality and racism in America.
The symbolic video features graphic visuals that address gun violence. Kicking off with an upbeat tone, the music video takes a dark and disturbing turn when Gambino draws a gun on a man and shoots him in the head. There is also a point in the video when Gambino shoots a joyful black gospel choir, a brief reference to the 2015 Charleston mass shooting when a white supremacist killed nine black individuals in a church basement. The guns that Gambino used are seen being handled with care and attention as they are placed on a red cloth, whereas the lifeless victims are carelessly dragged away across the floor, representing how America deals with their problems on guns and shootings.
The video references Jim Crow when Gambino poses as the racist 19th century black character during the first shooting.
Police brutality is frequently highlighted in the video, which shares a similar message Gambino sent in a previous composition, "Boogieman," which displayed racial prejudices and police brutality towards victims that are mistreated with impunity after committing no crime.
Childish Gambino's dance moves are praised as the shirtless artist dances in an upbeat manner. However, his impressive trendy dance moves intentionally distract the audience from the background calamities, representing how people tend to ignore the ongoing violence in America and care more for the pop cultural trends. There are also violent acts behind Gambino and his dancers, including a multitude of riots with untroubled bystanders on their phones at the scene.
Gambino's supporting dancers are schoolchildren who mimic Gambino's every dance move and distract themselves from their surrounding chaotic environment. It is not until Gambino hand gestures a gun when the schoolchildren break free from their pop cultural trance and run for their lives as they realize the violence amid them. The scene represents how society resorts to entertainment as an escape from the violence that plagues the country.
The music video also features singer SZA as she makes a brief cameo appearance sitting on top of a car's hood towards the end of the video. This indicates a collaboration between Gambino and SZA in the near future.
The final moments show a terrified Gambino running down a dark hallway from a mob of angry people with the lyrics in the background: "You just a Black man in this world / You just a barcode." The montage of Gambino running for his life during the final verses of the song means that his life is worthless because of the color of his skin.
The music video displays well-shot powerful imagery. Gambino's symbolic and political musical spectacle allows the audience to analyze and form hypotheticals on his piece of work that addresses the modern issues of American culture.
The song is catchy itself and complements the dark and disturbing tone of the video.
The musician will star in the upcoming "Solo: A Star Wars Story" as the young Lando Calrissian and the season finale of his Emmy award winning tv series, "Atlanta."